---
Mr.Curie - missing Dr. Ikazaki - 2019 English ver.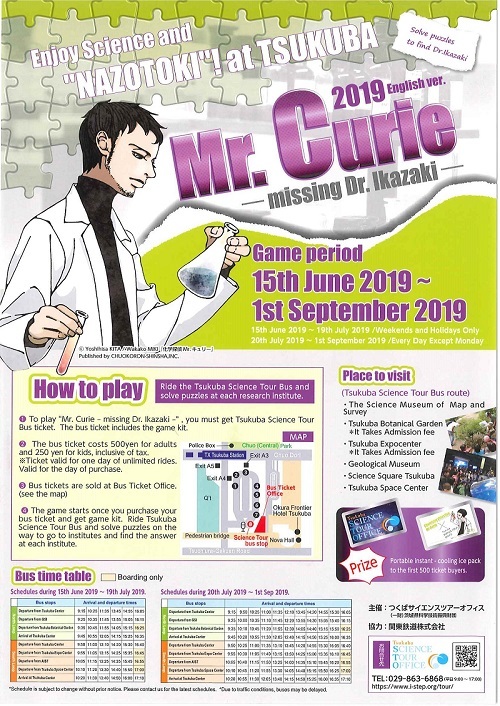 Enjoy Science and "NAZOTOKI"!
 Mr. Curie - missing Dr. Ikazaki - 2019 English ver.
【Game period】
15th June 2019 ~ 1st September 2019
・15th June ~ 19th July … Weekends and Holidays Only
・20th July ~ 1st September (Summer Vacation) … Every Day Except Monday
※The Bus runs on 12th Aug Monday and no service on 13th Aug Tuesday.
※Except closing day of each institute.
~Story~
Mr.Curie visits Tsukuba Congress Center to meet Dr.Ikazaki.
When Mr.Curie visits Doctor's room doctor is not there and there are a piece of paper and puzzle sheets are on his desk.  The paper says "Solve puzzles to find Dr.Ikazaki". 
Help Mr.Curie to solve puzzles and find out missing Dr.ikazaki!!
【How to play】
1. To play the game you must get Tsukuba Science Tour Bus ticket.  The bus ticket includes the game kit.
2. The bus ticket costs 500 yen for adults and 250 yen for kids, inclusive of tax. 
*Ticket valid for one day of unlimited rides.  Valid for the day of purchase.
3. Bus tickets are sold at Bus Ticket Office.
4. The game starts once you purchase your bus ticket and get game kit.  Ride Tsukuba Science Tour Bus and slove puzzles on the way to go to institutes and find answers at each institute.
☆500 Game kits are available and you can get portable instant cooling ice pack as a prize!
Mr.Curie - missing Dr. Ikazaki - 2019 English ver. PDF
【Contact】
Tsukuba Science Tour Office
Tel: 029-863-6868 (Weekdays 9:00-17:00)
E-mail: s-tour@i-step.org